Check Out Our Awards & Recognitions

Armour Shield Roofing is proud to have won the 2012 Better Business Bureau Integrity Award in Western Ontario, which can only be given once to the same company. We appreciate your support and cooperation and will continue to provide "premium quality" roofing. You can download the PDF article by the London Free Press! Download it here

Armour Shield Roofing is a "premium quality" roofing corporation.

We strive to continue operating our roofing business by delivering high quality roof replacement and roof repair service and exceptional customer service experience while maintaining our NO COMPLAINTS status and our A+ BBB rating and winners of the BBB integrity award of Southwestern Ontario.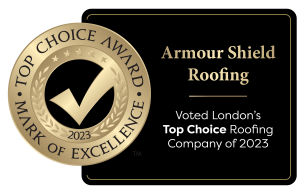 We Did It!! 🥳 We are so proud to announce that Armour Shield Roofing has been crowned the Top Choice Award Winner for Top Choice Roofing in the 2023 Top Choice Award Survey and it's all thanks to you!
This could not have been done without the dedication of our team and the love from our customers, and for that, we are very grateful to you all. 🙏
Words cannot express how warm our hearts are from all the support we've received from our community! We truly appreciate this recognition and the association with the exclusive Top Choice Award circle of winners.
Winning the Top Choice Award is one of the most coveted endorsements a business can receive in all of North America, and this victory is a testament to our continued dedication to the consistent pursuit of total customer satisfaction.
Our warmest congratulations go out to all of the nominees, voting contest winners, and fellow winners of the 2023 Top Choice Awards Survey. We at Armour Shield Roofing would like to once again thank you for voting us your Top Choice of 2023 and we trust to always have your support. Cheers to a bright 2023! 💜 #itrustlocal #topchoiceawards
Sincerely, Armour Shield Roofing Team
P.s if you'd like to further support us as your Top Choice, please feel free to leave a review on our iTrustLocal profile.
About Top Choice Awards
Top Choice Awards collects and reviews the opinions of thousands of customers annually, which translates into thousands of iTrustQualified businesses who get listed on iTrustLocal.com, giving them the chance to win the Top Choice Award during the annual Top Choice Awards Survey. Companies use our survey results to improve customer satisfaction and business development, while our social promotion system gives customers the power to enjoy excellent experiences by making educated purchase choices. Our trusted directory of Top Choice Award winners is used daily in over 30 cities across North America